4 Common Mistakes Small Business Owners Make When Hiring (or Outsourcing)
If you're looking to hire a new team member or outsource work to a freelancer then you're in the right place. 
I love helping small business owners build superstar teams so that they are surrounded by people that: 
bring solutions to the table, and

are aligned and focussed to the scaling up goals,
Allowing the business owner to step into their true CEO role.
However, before you jump right in and make your next hire, here are some of the most common mistakes small business owners make.
If you're not careful, these hiring mistakes could cost you not only a lot of time, but also a lot of money. 
1. Just going with a referral
Often we ask our business buddies for a referral - this is great - I often get business through referrals. But this doesn't always mean the person that has been referred is the best fit for what YOU need.
Let me explain this in more detail with an example. Let's say you are looking to hire a Social Media Manager.
The hard skills these types of people have are usually in these areas:
Social Media platforms - some have more experience / knowledge with Instagram, some are better suited to LinkedIn, for example.

Copy style / tone of voice - some are used to working with businesses with a friendly / lighthearted TOV, some are used to a more corporate, no-nonsense TOV

Type of business - some have experience working with Business to Consumer (B2C) brands, some with Business to Business (B2B) brands  
You can see with this example, that you may have a referral of a Social Media Manager that is expert in Instagram, capable of writing captions in a friendly / lighthearted TOV for B2C brands. HOWEVER, you and your business are looking to dominate LinkedIn with a more corporate, no-nonsense TOV aimed at a B2B audience.
And that example just covers the variances in the hard skills and experience. What about the variety of Social Media Managers' soft skills such as preferred working and communication styles? 
Perhaps the referred SMM performs best with more handholding and accountability than you wish to provide. Or they tend to communicate via email when you use a task management system to communicate tasks with your team.
The point is that any referral may be a great one but just not for YOU and YOUR business requirements.

How you can avoid this mistake
I'm not saying that you shouldn't ask for referrals and, potentially, interview those referrals. But first you must be clear on what you need for your business.
This way, when you speak to the referral, you can ascertain if they have the correct skills, experience and are a good cultural / personality fit for your business.
You can protect yourself by always interviewing at least 3 candidates AND having a clear job description for the role you are looking to hire.
This leads me nicely to mistake #2.
2. Not having a written job description
Often in the hiring process, we just "wing it". We know, in our heads, a rough outline of what we want this person to do and what tasks they will be responsible for. 
Many small business owners think, "I'm 'just' hiring a freelancer. They will be an expert in what they do." 
However, being clear from the outset on what tasks and responsibilities your new hire needs to undertake, as well as the skills and experience that are required to perform those duties and how this new hire will fit in with and work with other team members, is 100% necessary.  
Not having a written job description can lead to a lot of applications or interest in the role from unsuitable candidates, making the recruitment process much more time-consuming for you.
It can also lead to making the wrong hire. As in my previous example with the SMM, you may hire someone with the wrong skill set and experience. 
Finally, it can also result in muddled expectations once the person is onboard. In your head, you have been clear on the duties and responsibilities, but not having it spelled out in black and white, can mean the new hire doesn't live up to those expectations in your head.
How you can avoid this mistake
Write a job description. Every time. Without exception.
Treat your business like a business. A "big business" wouldn't dream of hiring someone without a job description and neither should you.
Here are some things to include in every written job description: 
Introduction about you and your business and why you are looking for this person

Nitty gritty details - expected availability / hours of work / range of pay. Outsourced vs hire. 

List of tasks / responsibilities

Necessary skills / experience

KPIs - how you will measure their success
It's also a great idea to inject your personality in the job description alongside what it's like working with you / your team. The prospective hire can then get a sense of what it would be like to work on your team. The job description doesn't have to sound "corporate".
Here is an example Job Description that you can download for free.
3. Panic hiring
Does this sound familiar? 
You are feeling overwhelmed and overworked and believe that if you could hire someone 'tomorrow', all your woes will disappear. 
In a panic, you put a post out on social media that you're looking for someone to join your amazing team. Or you ask your business buddies for a referral.
You have that rough outline in your head of what you need but you don't have the time to think strategically about your growth plans or goals (what you and your business actually need).
Someone responds to your social media post or you get that referral, you have a quick chat with the person and hire them. 
A few weeks or months later, you're no better off than before. The person wasn't the right fit, you've spent tons of time holding their hands or correcting their mistakes. Maybe you realise that actually your business really needed a Marketing VA rather than a Social Media Manager, for example. You're more stressed and overwhelmed because things haven't worked out like you had hoped.
You then let them go and have to start all over again.
This is the deadly cycle of reactionary team growth.
How you can avoid this mistake
Hire with intention instead. 
Do your planning. As part of your 1 year plan and goal setting, review what people and resources will be required to meet that plan and achieve those goals.
Factor in any estimated, additional costs into your Profit & Loss forecast to ensure you have the budget to grow your team. 
If you're unsure what tasks need delegating, I always advise clients to use this Task Matrix.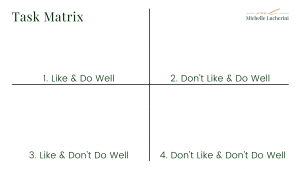 Brain dump all of the tasks you are doing into 1 of the 4 quadrants. Then label each task with either an S for a strategic task (task working ON the business) or an I for a task that is working IN the business. As you start to scale, you should be focussing more and more on those tasks with an S and delegating those with an I.
Then you can start to think about those tasks that you should continue doing and what you should be delegating. Start with the tasks in quadrant 4 (those are tasks that are costing you money right now and should be delegated ASAP) and work backwards. Tasks in quadrant 3 are those that you enjoy but are not benefitting your business by you doing them. 
I then group tasks that could and should be delegated into "roles". The tasks that can logically be grouped together to form a new hire's duties and responsibilities.
Finally, as part of the planning process, ensure you leave yourself at least a month to post the job description, research potential hires and undertake at least 3 interviews.
Then factor in another few weeks for onboarding time before the new hire will be up and running. 
In this way, you'll avoid the reactionary, panic hiring cycle described above. 
4. Not preparing an onboarding plan / process
I often see small business owners (as part of panic hiring) throw the new hire "in the deep end". As per my previous examples, we think that the new hire is the expert so they know how to do their job. 
But each business has their own unique "way" of doing things or processes. Each business also has (or should have) a way of doing things that reflect their brand and values.
You can have the best job description and the "perfect" hire but leaving them to figure it all out on their own can lead to costly mistakes. Research shows that new hires leave or fail due to a lack of communication, support and not having the right tools to deliver successfully.
How you can avoid this mistake
Have a documented onboarding process for new hires. This should include:
Signing of any relevant contracts

Setting up relevant systems for the new hire - emails, software log-ins, etc

Training on those systems especially if they don't know how to use the technology

Time with the CEO (ie you) on what your business vision and goals are. Most importantly, what part does the new hire play in realising those.

Indoctrination to the relevant SOP's, processes, task management system. Relay, step by step, how they are expected to carry out their duties and responsibilities (there shouldn't be any grey areas)

Ensure they have access to any and all relevant documents and train them on your document sharing system.

Set up your desired communication system. Agree on regular, recurring meetings as well as the best way for more instantaneous communication with you and the other team members (Slack, for example).
As part of hiring with intention, you should have all of this prepared PRIOR to the new hire starting work with you. None of this "winging it".
What now?
There you go. Now you understand some of the most common mistakes when small business owners hire a new team member.
Avoid these mistakes and save yourself a whole lot of time, money and stress. 
And remember, just because you're a 'small business' doesn't mean thinking 'small business' when it comes to recruitment and onboarding. If you want to scale your business with sanity and focus, emulate some of these best practices from 'big businesses'.
If you would like my help to make your next hire a success, then book a call with me here. 
Scaling Secrets from your
Pragmatic BFF
The Email Newsletter for ambitious and visionary entrepreneurs, who need a down-to-earth best friend. Sign up to get fortnightly, actionable insider advice and tips delivered straight into your inbox. Designed to help you successfully scale with sanity and focus. Always keeping it simple, created to make sure you avoid common scaling mistakes, and it's FREE.

Ready to scale your business with sanity and focus?