Set Strong Foundations To Scale Your Business
Running a business can be a lot of things. It can be exciting, inspiring and engaging. It can be challenging, demanding and tiring. Becoming a business owner means existing at both ends of the spectrum between the rewards and the hardships.
Sometimes, especially when we try to scale, we encounter obstacles that force us to assess our journey. This can lead to doubts and indecisions – and even ditching the business entirely.
Rather than allowing that to happen, I believe that there are core foundations you can establish in your business and your mindset to not only help you grow but also to scale. You might already have some parts of them in place, but if you're constantly encountering a growth ceiling, you've probably failed to properly implement some of them.
To take my point even further, I'd say that businesses that don't have some form of these foundations in place will ALWAYS fail to scale successfully. The crucial thing is to ensure that your foundations aren't just about visionary ideals – they must also be mapped to pragmatic action.
I'll share what I think are the most important foundations for a business below, but you can also read more about this approach in my Scaling Success Ecosystem.
Vision
Having a vision for your business is crucial. A vision statement clearly defines what your business is, where it is going and how it's going to get there. Although it is an aspirational target - it should be connected to your future goals.
I always recommend thinking about the following points before trying to get all your hopes and aspirations for your business into a short Vision Statement.
What's your business' mission? What does your business do for its customers?
What are the goals for your business in 5 to 10 years time? These need to be realistic based on where your business is at right now.
When you create your Vision Statement make sure to:
Be concise. It should be simple and easy to understand by anyone.
Be clear. Focus on the one big goal for your business.
Be future-orientated. This is about your business in 5-10 years time.
Be inspiring. This statement should get your whole team fired up and engaged to be a part of the journey.
Values
While it may seem a little bit too corporate, having core values in your business is essential. Like in my point about vision, values shouldn't be intangible, empty statements. Every business wants to be 'kind' – what does that actually mean to you and how will you practice it?
The most important part of company values is that they are shared – they're not meant to be a reflection of your own values, but a common mindset that helps keep everyone on the same page and aligned towards the same goals.
Values also give you a lens through which you can assess business decisions objectively. When deciding to move forward on a plan or process, consider how it impacts your values. If it's in conflict with them, it's not the right decision.
Permit me an indulgent analogy for a second: if your vision is a roadmap and your business is the vehicle driving towards it, your values are the fuel that helps keep the business moving.
Core focus
It's easy to get distracted in the fast-moving world around us. Businesses need to nail down their core focus quickly as it establishes the very core of what you do and why you do it. A core focus basically answers the question: "What does your business do and who is it for?"
In the past, I've talked about discovering your core focus by asking "what are we better at than anyone else in the world?" This will likely be the reason you started the business in the first place.
Your core focus also helps you assess business decisions objectively. When deciding to move forward on a new product or service, for example, consider if it is in alignment with your core focus. If this new product or service takes you away from what your business does and who for, it's probably just a "shiny" new idea that's going to distract everyone.
At its essence, this is all about conceptualising what makes your business tick. While vision and values are influenced by what you want your business to be, your core focus is what it simply is.
Three pillars, one solid foundation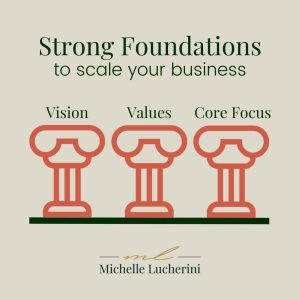 None of these things, in isolation, make a business what it is. They're all pillars that hold up your foundation - each as important as the other. In my opinion, the real challenge is to make sure these pillars are baked into your strategic planning, each and every time.
Yes, your business needs a foundation built on aspiration – but it also has to present real pathways for growth that can be followed and measured. Otherwise, you're just going to be running your business with your head in the clouds.
Scaling Secrets from your
Pragmatic BFF
The Email Newsletter for ambitious and visionary entrepreneurs, who need a down-to-earth best friend. Sign up to get fortnightly, actionable insider advice and tips delivered straight into your inbox. Designed to help you successfully scale with sanity and focus. Always keeping it simple, created to make sure you avoid common scaling mistakes, and it's FREE.

Ready to scale your business with sanity and focus?