What Is a Fractional COO or Operations Director?
When I was first working out how I would describe my role to potential clients, there were lots of names that almost felt right. Operations Manager, Freelance Operations Executive, Operations Consultant – all of those almost describe what I am, but miss the mark.
Enter the titles of Fractional COO (Chief Operating Officer) and Fractional Operations Director. The COO title is most often used in large corporations but is actually synonymous with Operations Director - the only difference being semantics.
The title of Operations Director is far more common in the smaller businesses I work with and is applicable to what I do, who I am, and the gap I fill in your own business. If you're wondering why that's the case and what the title even means, don't worry: that's what this blog is all about.
What is a Fractional COO or Operations Director?
A Fractional Director is an external Director you hire on a contractual basis. Unlike traditional freelancers and consultants, the term 'fractional' describes senior executives who lease their authoritative management expertise to your business on a contractual basis.
With a Fractional Director you get all of the expertise without the cost and commitment of an in-house hire. In most cases, small businesses cannot afford an in-house hire, making fractional partnerships the ideal option.
A COO or Operations Director, is a role that deals with managing the growth of your business - both internally and externally. We act as a CEO's right hand, helping you execute the vision for your business by planning and executing change.
A COO or Operations Director is both the bridge and the filter between top leadership and the rest of the business. The primary function is to operationalise the vision and strategies, ensuring productivity, efficiency, and profitability.
This is a role you need when 'growth' isn't enough. Rather than focusing on small gains in productivity or profits, COOs or Operations Directors are responsible for implementing tangible changes to your business operations, allowing you to scale exponentially.
A good Chief Operating Officer or Operations Director is an integral part of your business, driving the strategy and planning of your entire workforce and business flow forward towards lasting success.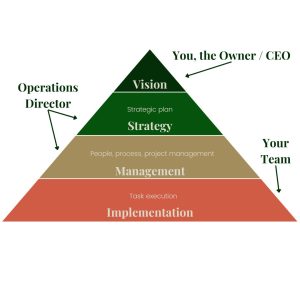 For most small businesses, working on your actual business is a rarity. You'll be too busy with your day-to-day operations to get the objectivity, space and time you need to step back and readdress your scaling plan.
That's where a COO or Operations Director comes in.
What does a Chief Operating Officer or Operations Director do?
Firstly, a COO or Operations Director takes a look at your strategy: the business's goals and services and decides how that impacts your operations. The main areas that should be assessed will vary from business to business, but most commonly, they're comprised of people, processes, systems and planning.
And secondly, your COO or Operations Director is there to provide clarity on the data and if it's set up to measure your success.
As a COO or Operations Director, my overall goal is to optimise your business in a way that streamlines costs whilst improving productivity. As I've discussed in my Scaling Success Ecosystem article, I approach this from the following angles:
People: your team may be integral to your business, but how will their roles, responsibilities and input/output change as you grow?
Processes & systems: the tools, technology and processes you have in place may work for now, but how optimal are they if you want to scale?
Planning: every business needs a plan, a forecast and way to measure performance, but how often do you reassess yours?
My role as a Fractional Operations Director is to use these areas to understand where your business is now and then map out your future on a growth-orientated trajectory that allows you to scale continually. A proper operations system aligns structure, strategy, and day to day functions to maintain effective prioritisation and goal realisation.
Ultimately, you bring in a COO or Operations Director when you're serious about success. Most of my clients come to me after they've managed to grow something special but feel they've reached their limits with where to go next.
Questions for a Chief Operating Officer or Operations Director
If you're considering working with a Fractional COO or Operations Director, there are some areas you can't afford to take risks in – so I've put together some questions you can throw at them to ensure they're a good fit.
What do you think of our current business structure? What changes do you envision having to make?
How will you work alongside our CEO to make the business better?
What metrics are most important for tracking performance?
What level of involvement will you have with our day-to-day operations?
How will you deliver planning and strategy? Presentations, documents etc.
Hire a Fractional COO or Operations Director for your business
If you're ready to scale your business and you need an external perspective to ensure you're positioned for success, then now is the time to hire a Fractional Director. Without a COO / Operations Director, you risk pushing ahead with growth plans that haemorrhage money and disrupt your business in a way that hamstrings your capacity to scale.
Work with a Fractional COO / Operations Director to address your issues early, put the right plans in place and create processes that ensure lasting business success. If you'd like to know more, you can book a call with me using this link.
Scaling Secrets from your
Pragmatic BFF
The Email Newsletter for ambitious and visionary entrepreneurs, who need a down-to-earth best friend. Sign up to get fortnightly, actionable insider advice and tips delivered straight into your inbox. Designed to help you successfully scale with sanity and focus. Always keeping it simple, created to make sure you avoid common scaling mistakes, and it's FREE.

Ready to scale your business with sanity and focus?