5 Signs You Need a Fractional Operations Director
So you've started to see growth in your business. Well done! There's nothing more rewarding than seeing something you've poured time, energy and money into begin to flourish. Unfortunately, most business owners struggle to manage growth because they're too busy doing what they're good at - the passion, interest or expertise that enabled you to grow your business in the first place.
If you're a sales consultant who pivoted to selling an online sales training membership and is now rapidly gaining clients, for example, you might feel a bit lost with how to scale your business or manage your new financial resources.
Don't worry. Your expertise in your own industry made your business what it is today. But as you grow, you need someone who can step in and ensure the day-to-day running of the business runs effectively and efficiently. Enter the Fractional Operations Director.
I've detailed what my title means in a previous blog post, which you can read here. However, understanding what to do is different to knowing when you need to reach out and ask for help. Here are the top 5 signs you need a Fractional Operations Director in your business.
1. You've hired a significant number of employees in a short space of time.
Growth is fantastic, but one of the biggest stumbling blocks on your journey can come in the form of new hires. As you grow, you may find yourself retroactively recruiting to fill the gaps that begin to pop up like leaks on a boat. You'll suddenly find yourself with a larger team than you expected, without the right processes in place to manage workflows and create systems.
When this happens, individual employees will either fail to act productively or they may actively begin to dislike their role. You need systems in place from the very first point of recruitment that help guide your new hires into what they need to do and how they should do it. A Fractional Operations Director will create that system for you, not only implementing SOPs (Standard Operating Procedures) for critical workflows but also assessing the effectiveness of this new, large team to ensure you have the right people in the right seats.
2. Goals aren't being hit despite working towards them
If you've set goals and your team is working hard, you might be mystified or frustrated when you just seem to be unable to reach them. When all of your processes are running smoothly but you're not achieving your goals, you need a Fractional Operations Director for two things: to work out why you're failing to meet your goals and to help you reassess them entirely. Sometimes it may not even be a case of doing anything wrong - your goal-setting system might be flawed. See my other article on SMART goal setting to learn a bit more about this.
Your team may be efficient (or they may not be) but are they effective? Is everyone working on the right things to move the needle?
3. You or your team feel overwhelmed by day-to-day planning
Business growth is all about strategy and planning. When you reach a certain level, you begin to feel torn between putting effort into strategy and "big picture" actions versus the everyday, internal logistics of running a business. If, as you grow, you don't have a good grasp of the tools, processes and working systems your business is using, you can't really expect to grow any further without 'the wheels falling off'.
Again, bringing in a Fractional Operations Director at this stage is ideal as it allows you to focus on what you love whilst I ensure your team manages the day-to-day operations.
4. You've become the bottleneck
A CEO or business owner can't spend too much time micromanaging, or they'll have no time left to focus on what matters. Similar to the point we've just discussed above, but unique in the way it can happen, you become the bottleneck when the team is constantly coming to you with issues and questions and you feel you have to manage every aspect of your business constantly.
The reasons behind the bottleneck are what shows me you need an Operations Director. You've become the bottleneck due to a lack of confidence in your team or processes. If you're spending all your time overseeing things, it's because you don't feel you can sit back and let them happen independently.
An Operation Director's role is to ensure you CAN have that confidence, ironing out processes, systems and team responsibilities so that you don't have to be involved with every step. This not only frees up your time to focus on other things, but also helps improve your team's morale and effectiveness.
5. You know you need help but can't justify a full-time Ops role
There's no shame in admitting that you can't afford a full-time Ops hire. My entire role is based on the value I can inject over shorter timeframes, giving you access to operations expertise without the need to commit to a full-time hire and create an office or function for a dedicated Operations Director. As a remote specialist I'm the ideal choice for scaling businesses that know they need help but can't justify a full-time hire.
Hire a Fractional Operations Director for your business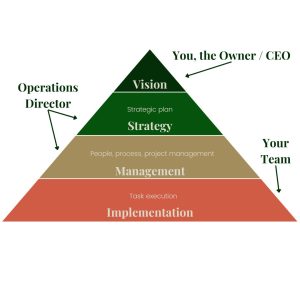 If you're ready to scale your business and you need an external perspective to ensure you're positioned for success, then now is the time to hire a Fractional Director. Work with a Fractional Operations Director to address your issues early, put the right plans in place and create processes that ensure lasting business success. If you'd like to know more, you can book a call with me using this link.
Scaling Secrets from your
Pragmatic BFF
The Email Newsletter for ambitious and visionary entrepreneurs, who need a down-to-earth best friend. Sign up to get fortnightly, actionable insider advice and tips delivered straight into your inbox. Designed to help you successfully scale with sanity and focus. Always keeping it simple, created to make sure you avoid common scaling mistakes, and it's FREE.

Ready to scale your business with sanity and focus?